Environment-resistant specifications type robot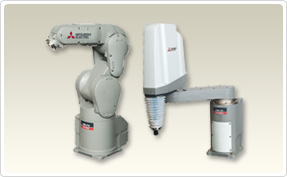 The resistance to corrosion due to chemical cleaning is enhanced, and this improves detergency and cleanliness.
These types of robots are applicable to the production environments including conveying or processing medicinal products and foods.
RV-F/RH-F series
The F-series robots, FQ series (for iQ platform) and FD series (stand-alone), use the next generation controller that incorporates many intelligent features and significantly improves the performance of the robots.