Laser Drilling Machines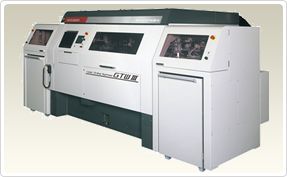 Mitsubishi Electric takes laser drilling machines to a whole new level.
As a premier comprehensive manufacturer of laser processing machines and various factory automation systems, our techical capabilities have allowed us to develop and manufacture every critical component of our laser systems from f-theta lens to resonator and control devices. We are committed to delivering products and services of unsurpassed quality. Mitsubishi Electric has received the Achivement Award in the 41st Ichimura Industrial Award.
GTWIII series
Twin-head, twin-work laser drilling machines
Mitsubishi Electric's laser drilling system employs a newly developed high-speed galvanometer and 200W high-power resonator for rapid laser drilling, delivering industry-leading productivity.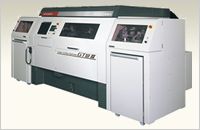 GTF series
4-beam IC package laser drilling machines
Mitsubishi's unique spectroscopy technology enables 4-beam simultaneous drilling, allowing for rapid laser drilling and increased productivity.