Convey information easily and reliably with sound
GT Works3 can now be used to synthesize speech data. Sound files can be created easily.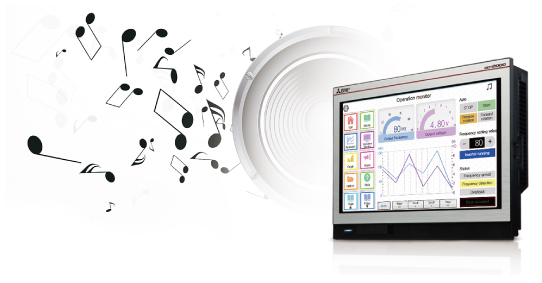 Support sound file creation
GT25
GT21
Speech synthesis function*1
Just enter text in GT Works3 to create a sound file of a message. (Up to 500 files can be registered.) Messages can be created in 6 languages and you can select the speaker (female/male) for each language. In addition, using FA Term Translation Tool *2 together can reduce time for multi-language screen creation and support globalization of the system.
*1

GT Works Text to Speech License (SW1DND-GTVO-M) is required separately.

*2

This tool is included with GT Works3. For more details, please refer to the "FA Term Translation Tool" or contact your local sales office.

Enhanced playback functions of sound files
GT25
GT21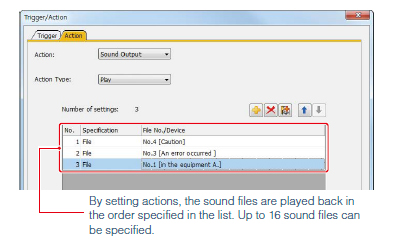 Multiple files can be set and played back consecutively (up to 16 files).
The playback time is now longer than before so that various messages can be used.
Easily set consecutive playback list (by switch operation or trigger action)
In GT Works3, just specify the files in the playlist in the order of your preference and the files are played back consecutively.

Cancel or mute the sound while it is being played back

After checking the situation, you can stop or mute the sound while it is being played back so that you do not need to worry about annoying other operators.
Sound notification is useful at the worksite
GT25
GT21
Use message, sound effect, or melody to notify occurring events
When an alarm occurs, outputting a warning message or a warning sound can reliably convey the information to the operators who are working away from the GOT. It is also usable while screen saver is active. Quickly notify the alarm information and the error cause of the equipment to reduce the downtime of the system.
Additional functions
GT25
GT21
Even if multiple errors occur, playback all messages
If multiple errors occurred simultaneously, GOT saves up to 16 data and notify all events. There is no need to worry about missing some occurred events.

Consecutive playback reduces data size
You can extract common parts and register them as separate sound data to avoid saving duplicate data and reduce data size. To change messages, simply change the combination.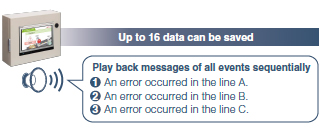 Useful tips about using sound notification
GT25
GT21
Change touch sound depending on the situation
The touch sound can be changed depending on the worksite situation or the operator's preference.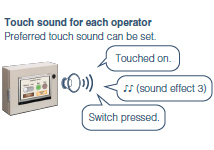 Use as the sound guidance when touching a switch
When touching a switch, a message guides you to the next operation and notifies cautions so that you can avoid operation mistakes in advance.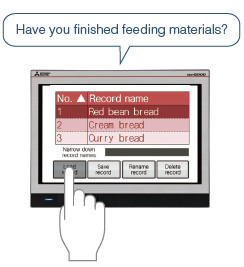 Announce a message in various languages sequentially
When there are operators who understand different languages, you can convey necessary information correctly to every operator.

Specification details and restrictions
For the supported connection types and necessary option devices, please refer to the relevant product manual.