Products
Space Systems
Ground Systems

Control Systems
The Ground Operations Systems for the Himawari-8,9
The ground operations system designed, built and installed by Mitsubishi Electric consists of antennas with a 9-meter diameter and radio frequency and satellite control equipment installed at the main unit in Hiki-gun,
Saitama Prefecture, and the sub unit in Ebetsu, Hokkaido. Through their involvement in weather satellite operations, the two companies will continue to contribute to disaster prevention and monitoring global environment.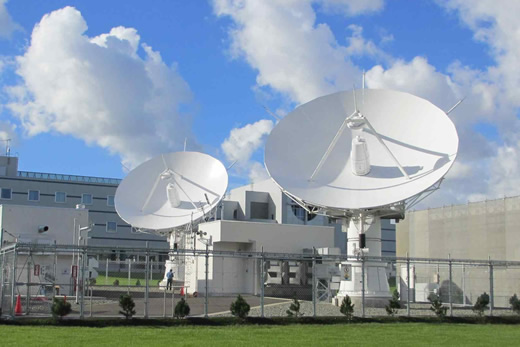 ---
System Features:
Double redundant configuration for stable and accurate operations
A two-unit operation scheme ensures stable and consistent observation data transmission to JMA. Each unit features a redundant configuration including antennas with a 9-meter diameter.
Timely retrieval of observation data
Thanks to the system's alignment to the geographical coverage area of Himawari-8 and -9, observation data can be retrieved once every 2.5 minutes (up to 576 times per day), enabling the provision of up-to-the-minute information on typhoons, rainstorms and other climatic anomalies by geographic sector. Previously, data retrieval was limited to once per day.
Cutting back on labor
The introduction of an integrated system simultaneously monitoring the two satellites and both ground units enables manpower to be reduced over a 15-year period.