Products
Space Systems
Ground Systems

Control Systems
New Ground Antennas and Satellite Control System for QZSS
Our new ground antennas are key components of telemetry, tracking and command stations that provide a satellite positioning service and a safety confirmation service utilizing quasi-zenith satellites (QZS).
Mitsubishi Electric participated in this project, which was led by the Japanese government and based on a private finance initiative (PFI) scheme. The antennas support both C-band and Ku-band communication links, and are located at five different sites throughout Japan (see map below). The navigation upload data for the positioning service, normal command transmissions and telemetry collection for satellites control is communicated via C-band. The safety confirmation service is provided via Ku-band.
Additionally, in-house satellite control software (BirdstarTM) installed in the master control stations contributes to stable satellite bus and mission control operation utilizing minimal staff, even when independently managing four QZSs at the same time.
Mitsubishi Electric will further contribute to the realization of safe and secure societies through advanced antenna and satellite control technologies.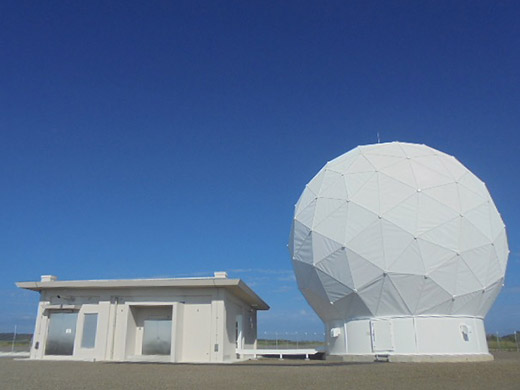 ---
Main Features:
C-band/Ku-band multi-frequency antenna Many years of experience in multi-frequency technologies has led to enhanced low-loss, high-efficiency antenna characteristics.
3-axis antenna equipment (10m diameter) enables 24hr/365d seamless operation Unique 3-axis control algorithm developed makes it possible to avoid not only singularity point inherent in 2-axis antennas, but also annoying cable rewind.
High-efficiency satellite bus and mission control utilizing market-proven technologies Utilizing a platform proven through experience in large-scale monitoring and control systems enables both intuitive operation and safety, even during multi-QZS operation. Furthermore, standard interfaces enable system customization to be optimized.
General Information:
Operation Start: 2018
Station Locations: 5 telemetry, tracking and command stations in Japan (see map below) 2 master control stations in Japan (see map below)
Frequencies: C-band and Ku-band
---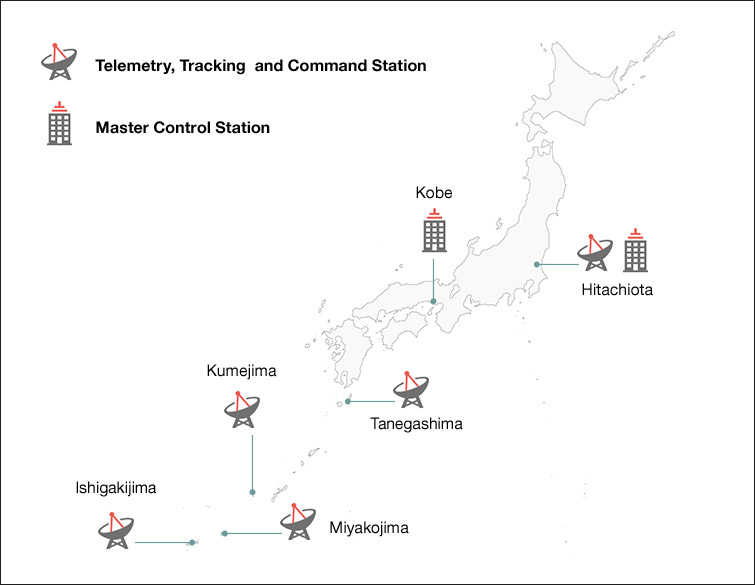 Learn more about Quasi-zenith Satellite System (QZSS), geographic positioning satellites