Industry 4.0 is indispensable for future manufacturing growth. While many corporations understand the importance of automation, they sometimes struggle to make it a reality.
They need a strong partner with the know-how to guide them.
Mitsubishi Electric has a 100-year history of supporting manufacturers, plus a prolific track record in achieving factory automation of its own and other corporations' facilities. And all embodying the Japanese philosophy of Kaizen that is now recognized worldwide.
We channel our wealth of insights into building smart factories to meet their respective aims and challenges. Let us guide your business to future success.
Mitsubishi Electric has achieved cost reductions and productivity improvements through digital manufacturing.
Reduction in
power consumption
The value of Mitsubishi Electric's
digital manufacturing solution "e-F@ctory"
Achieve excellent ROI with customized deployment steps that suit each company
Smooth execution, even for complicated processes, based on years of experience and know-how
Optimal solutions offered through collaboration with global experts
SMKL
A framework that enables management to make decisions on investments; SMKL
I feel that it may be difficult to make continuous management decisions because I don't know the return on investment.
There are no experts within our company so I don't know where to start.
It is difficult to invest in digital manufacturing unless you know the ROI. By using metrics that help to make investment decisions, it is possible to achieve a high ROI by implementing digital manufacturing initiatives step by step.
Where are you in the digital manufacturing process?
How are you using your data?
Where are you using your data?
You can plan, from start to finish,
your own journey to digital manufacturing.
Making ROI bigger step by step by using SMKL.

"Maturity Model" is a known type of analysis, it also makes the reader think of higher management analysis so is the right way to describe this….because it is actually a maturity model!

Just to make continuous investment is probably a bad business decision but to make that investment sustainable means that it pays for its self and continues to drive value – simply investing continuously does not guarantee benefit – only cost
By diagnosing your current level of manufacturing KPIs (objectives/targets), the SMKL maturity model allows you to set improvement indicators and new target values. Clear measurement objectives makes for clear ROI measurements, which set the path for continuous, sustainable, investments.
Learn more
Human Knowledge
In order to make factories smart, not only do we need digitalization and automation, but we also need human knowledge and experience to solve complex problems.
Mitsubishi Electric uniquely combines over 100 years of experience in manufacturing with its accumulated know-how in helping client companies achieve the same, using its state-of-the-art machines and digital manufacturing technology.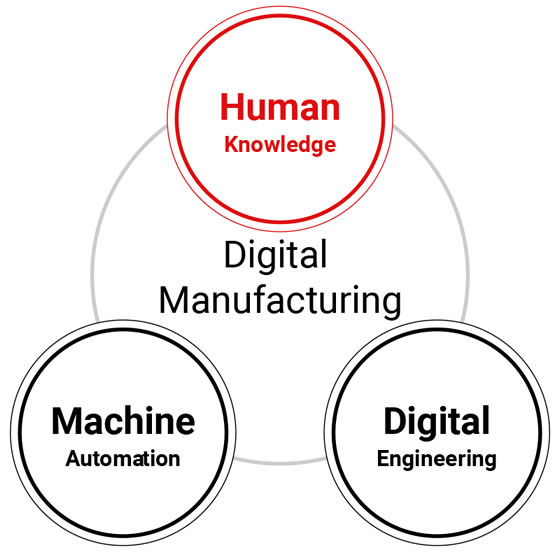 e-F@ctory Alliance
Every manufacturer has a different set of challenges, but by utilizing the skills, know-how and solutions of over 900 expert companies in their field, an optimal solution can always be found.
Case Studies
SMKL

Smart Manufacturing Kaizen Level (SMKL)
The framework that enables management to make decisions on continuous investments