Case study

Russian Railways
Transportation, Russia
Background / Issues

Large-scale maintenance and service poses management difficulties
Russian Railways is one of the largest railway companies in the world. This company transports 1.3 billion tonnes# of cargo and more than 1.3 billion passengers each year, which is equivalent to 80% of Russia's total goods transportation and 40% of its passenger transportation. With a route extending 85,500 km from the Black Sea across to the Pacific Ocean, it is the second largest network in the world. At the same time, it is also a center of excellence for maintenance because the burden on the rolling stock is so high as it travels through some of the world's harshest environments.
The maintenance management of a huge number of vehicles, including approximately 20,000 locomotives, 25,000 passenger cars and 630,000 freight cars is extremely complex. Identifying and tracking repaired parts, managing and adjusting schedules on the fly and challenged to improve productivity all made the job harder.
(# as of 2008 when the solution was installed)
Solution

Integrate and control all processes and implement a traceability system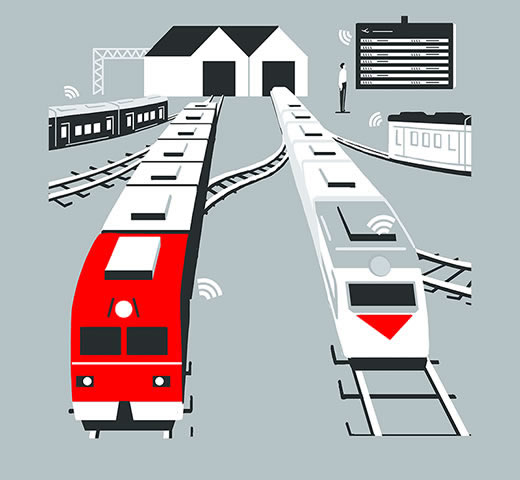 Renovating the freight cars of one of the world's leading railway networks required speedy response to complex requirements, and Mitsubishi Electric uniquely possessed the technical expertise to offer the most suitable solution. First, we identified the parts to be repaired, and made it possible to adjust maintenance schedules. Moreover, we seamlessly connected all steps of the repair process with a single automation platform as a building block towards central control and monitoring. Furthermore, the introduction of a traceability system that utilized intelligent RFID tags attached to the different parts to be processed. has made it possible to eliminate losses and troubleshoot between processes, resulting in a significant improvement in productivity.
Effect

Improving productivity by 70%
The integrated solution that Russian Railways implemented enabled them to collect the current data/status of the freight cars, control and monitor the factories overall operations, and target improved efficiencies in overall maintenance. The result has been processing capacity has almost doubled, making it possible to maintain and repair 3,000 more freight cars per year, bringing the total to 7,300 per year.
SMKL

Add overall visibility and unit traceability
Making ROI bigger step by step by using SMKL.

"Maturity Model" is a known type of analysis, it also makes the reader think of higher management analysis so is the right way to describe this….because it is actually a maturity model!

Just to make continuous investment is probably a bad business decision but to make that investment sustainable means that it pays for its self and continues to drive value – simply investing continuously does not guarantee benefit – only cost
Traceability
Add traceability

for all production units

Know where each part is at any one time, what has happened to it previously and what should happen to it next

Visualize the entire supply chain

Bringing visibility across the total operation from shunting yards to refurbishment and maintenance lines.
Customer's voice

This installation has become the "model" factory
The success of this maintenance facility is now considered as a model factory for Russian Railways modernization - a company accounting for 3.6% of Russia's total GDP. After the success of this project, Russian Railways President Vladimir Yakunin announced plans to invest in further modernization of the railway infrastructure. Following this project, two similar maintenance and refurbishment lines will be put into operation, followed by another 20 lines within 10 years.
Eugene Klevanov, Project Engineering Head at Techikon Ltd, a Factory Automation Specialist and system integration partner of Mitsubishi Electric said: "Mitsubishi Electric's automation platform was the only way to meet all the requirements in the shortest time for this Russian Railways automation project."
He added, "I hope that many other projects like this will follow, modeled on the success of this maintenance facility".
Please inquire with the following for more detailed information about utilizing data to enhance productivity and factory operation ratios by breaking away from processes relying on people.
Case Studies
SMKL

Smart Manufacturing Kaizen Level (SMKL)
The framework that enables management to make decisions on continuous investments