Case study

Lotte Co., Ltd. - Urawa factory
Food industry, Japan
Background / Issues

Stagnation of operation efficiency due to people-dependent processes
Lotte's Urawa factory is a confectionery specialist that boasts one of the largest production volumes in Japan. It manufactures chocolate, candies, frozen desserts, and ice cream products.
In the food & beverage production industry, while automation is advancing it is not universally applied. In the case of Lotte, their problems were not clearly understood, and rules for decision making were unclear. Many processes continued to operate relying on the "experience" of skilled engineers. As a result, future problems were anticipated such as the retirement of skilled engineers and future labor shortages, as well as the need for manpower and time to deal with production line shutdowns and machine troubles due to machine abnormalities. Therefore, the need arose to implement a solution to allow central control on all the processes related to production by taking advantage of IoT (Internet of Things).
Solution

Digitizing and analyzing the skills and knowledge of skilled engineers
Lotte implemented the solution in the manufacturing process of the complicated "Yukimi Daifuku" (a chilled confectionery where vanilla ice-cream is wrapped around thin rice cake dough), with the aim of then rolling it out to the entire line. The solution enables real-time diagnosis and offline analysis of data from the production environment.
(STEP I) Furthermore, in order to effectively implement utilize the solution, we added sensors that can measure temperature, vibration, pressure, current, etc., and collected data related to the finish of the rice cakes, which used to rely on the "experience" of field experts.
(STEP II) From data analyses, we clarified the correlation between the finish of the rice cakes and the electric current power consumed in production, and succeeded in formulating new diagnostic rules.
(STEP III) Currently, we are building and developing a mechanism to collect, utilize, and control data for the entire line, not just the rice cake manufacturing process.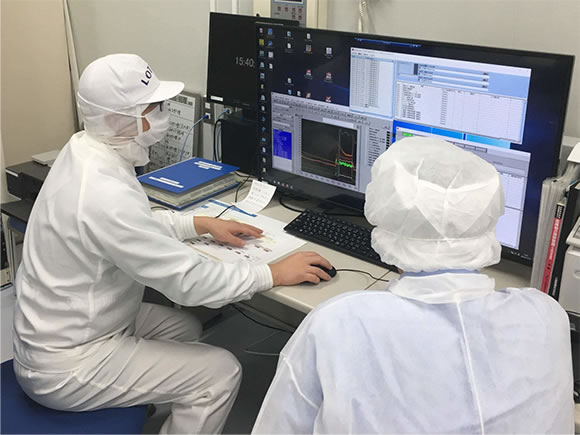 Effect

Successfully made the entire line smarter
We gradually expanded the newly automated data collection and utilization process from a specific area to the entire line. By implementing smart manufacturing lines, we succeeded in initiating "preventive maintenance" (detecting signs of wear or trouble before it happens), "stabilization of quality" (increasing the volume of "right first time" products), and finally we realized improvement of productivity.
SMKL

Date utilization for the entire line
Making ROI bigger step by step by using SMKL.

"Maturity Model" is a known type of analysis, it also makes the reader think of higher management analysis so is the right way to describe this….because it is actually a maturity model!

Just to make continuous investment is probably a bad business decision but to make that investment sustainable means that it pays for its self and continues to drive value – simply investing continuously does not guarantee benefit – only cost
Data analytics
Data visualization
(data collection and processing)

Data analysis and utilization
(processing data in real-time)

Application to the entire line
Starting with collecting data from limited areas of the process, we promoted real-time analysis and utilization of that data. We were then able to expand this from limited processes to the entire line.
Customer's voice

Aiming for across-the-board deployment of smart factories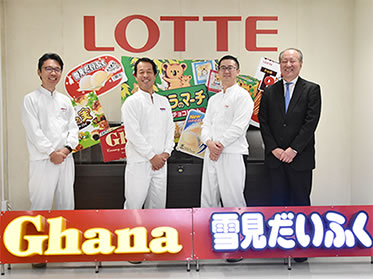 Members working to make Lotte's Urawa factory smarter. From the left, Mr. Akimoto, Mr. Sugimoto and Mr. Bian of Lotte's Urawa factory, and Mr. Tsuyoshi Matsunaga of Narasaki Sangyo, who supported the introduction.
The target at Lotte's Urawa factory is "a fully-automated factory." For that reason, it is imperative to utilize solutions that can enable "visualization" and expand the range of data acquisition. We plan to reduce workload through visualization, push for information sharing, and strive to speed-up improvements.
In addition, the analysis system implemented in this solution will be expanded to two factories in the Kyushu and Shiga regions, which also produce Yukimi Daifuku.
Mr. Sugimoto, commenting on future efforts aiming for fully autonomous operations, says, "In the future, we wish to achieve fully autonomous operations in the factory. We want to create a mechanism that can respond autonomously before production halts or the quality drops."
Please inquire with the following for more detailed information about utilizing data to enhance productivity and factory operation ratios by breaking away from processes relying on people.
Case Studies
SMKL

Smart Manufacturing Kaizen Level (SMKL)
The framework that enables management to make decisions on continuous investments