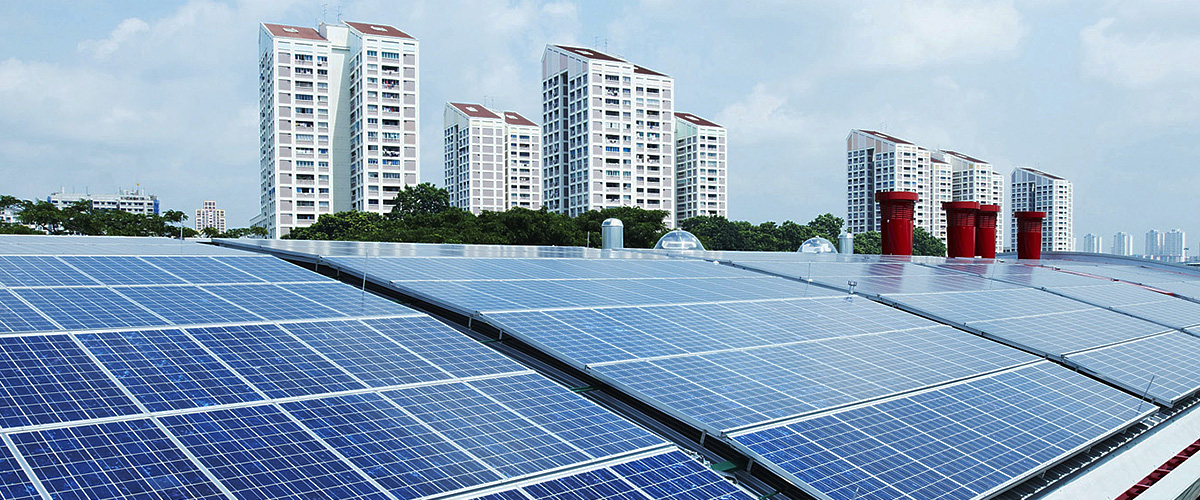 Proud to be a part of
Singapore's green initiative.
Solar Power System (Singapore)
Singapore's first retrofitted "Zero Energy Building" features Mitsubishi Electric's most efficient photovoltaic technology.
Zero Energy Buildings (ZEB) produce as much energy as they consume and represent the cutting edge of environmentally responsible construction. These buildings, which utilize state-of-the-art, energy-efficient technology and renewable energy systems, offer the same amenities as other buildings while significantly reducing impact on the environment.
By building Singapore's first ZEB at the BCA Academy, the government is demonstrating that "green building technologies" can be a practical solution for industrialized nations. The BCA Academy, featuring green classrooms, a library and visitors' center, integrates various green building technologies into a single facility to serve as a testing ground for the development of clean energy technologies.
On the main roof and linkway of the building, there are 858 Mitsubishi Electric photovoltaic panels, which generate 163kW of electricity. That is nearly 85% of the electricity produced by the facility.
In lab tests, Mitsubishi Electric's photovoltaic cells, featuring the highly efficient poly-crystalline silicon method, deliver one of the world's highest¹ energy conversion ratios—19.1%². The cells are also designed with no solder coating, helping to reduce the environmental impact of cell manufacturing. Mitsubishi Electric is showing the world that self-sufficient buildings and renewable energy sources are viable development choices for the future.
1. Conversion efficiency for 15 cm2 poly-crystalline silicon photovoltaic cell, confirmed by Mitsubishi Electric as of September 10, 2009.
2. Measured and certified by Japan's National Institute of Advanced Industrial Science and Technology.