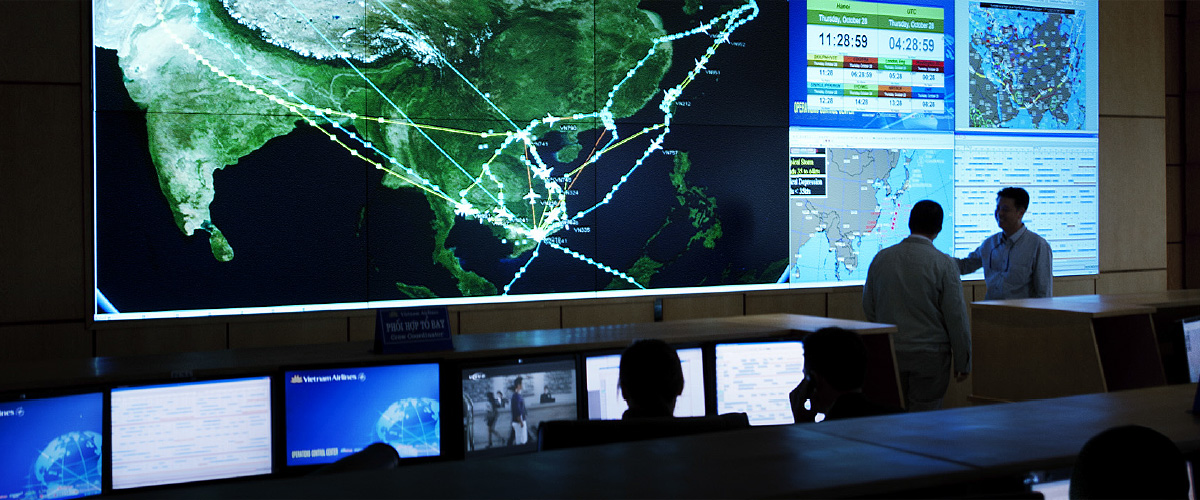 In air traffic control,
safety is the big picture.
Display Wall System
Mitsubishi Electric's DLP® display wall is helping to keep the skies safer for Vietnam Airlines.
In the airline business, the sharing and processing of critical, up-to-the-minute flight related information—such as weather conditions, air traffic and equipment status—is essential to ensure safe and timely services. However, if you can't see the big picture, it's impossible to manage the smaller details.
That's why Vietnam Airlines selected the Mitsubishi Electric display wall for its Operations Control Center (OCC) in Hanoi.
Vietnam Airlines operates a fleet of 70 airplanes providing both international and domestic flight services. Keeping track of all those planes requires the OCC to be open around the clock, as it is responsible for the overall supervision of flight operations.
To coordinate daily events efficiently and ensure safety, the OCC keeps track of it all on a massive display wall composed of 10 cubes. The cubes produce an image that is approximately 5 meters wide and 1.5 meters tall, in vivid 7000 x 2100 pixel resolution, on one large display wall. OCC duty staff can easily launch a display layout to the display wall from a desk monitor.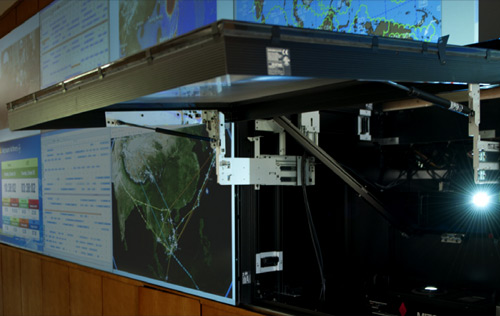 Each cube is a DLP® rear projection module with automatic color and contrast adjustment and a dual-lamp system. Therefore, if a signal is lost, the display switches to an alternative signal source, thus avoiding operation downtime. And when it is time for maintenance, each cube can be easily opened and serviced from the front—meaning no space is required behind the cubes. But not to worry, Mitsubishi Electric's color wheel system and other moving parts generally provide 100,000 hours of service without failure—this is equivalent to more than 11 years of service.
Clear vivid data, advanced technology, easy maintenance and minimal downtime—just what an airline needs to keep flying.
* DLP® is a trademark of Texas Instruments.